Looking for easy ways to make a galaxy background. With these tips and techniques, you can create DIY galaxies that are out of this world!
Galaxies are still very popular in the creative world right now and drawing a galaxy is much easier than you think. With my first video I show you how to create a galaxy with different mediums such as watercolor, acrylic paint, inks, and even markers!
In this tutorial, I show you 5 more ways to create galaxy backgrounds with different mediums. Don't worry, it's still very beginner friendly. You can see part 1 about how to create a galaxy background here. Watch the video tutorial below or on YouTube.
Here are 5 MORE Easy Ways To Create A DIY Galaxy Background
GALAXY BASICS
I used similar color themes in all of the projects below so it would be easier to compare. I laid down shades of blues and purples. Then once it was dry, I added in black to cover most (but not all of the galaxy). I then flicked some stars over top with this starry watercolor paint.
GALAXY BACKGROUND SUPPLIES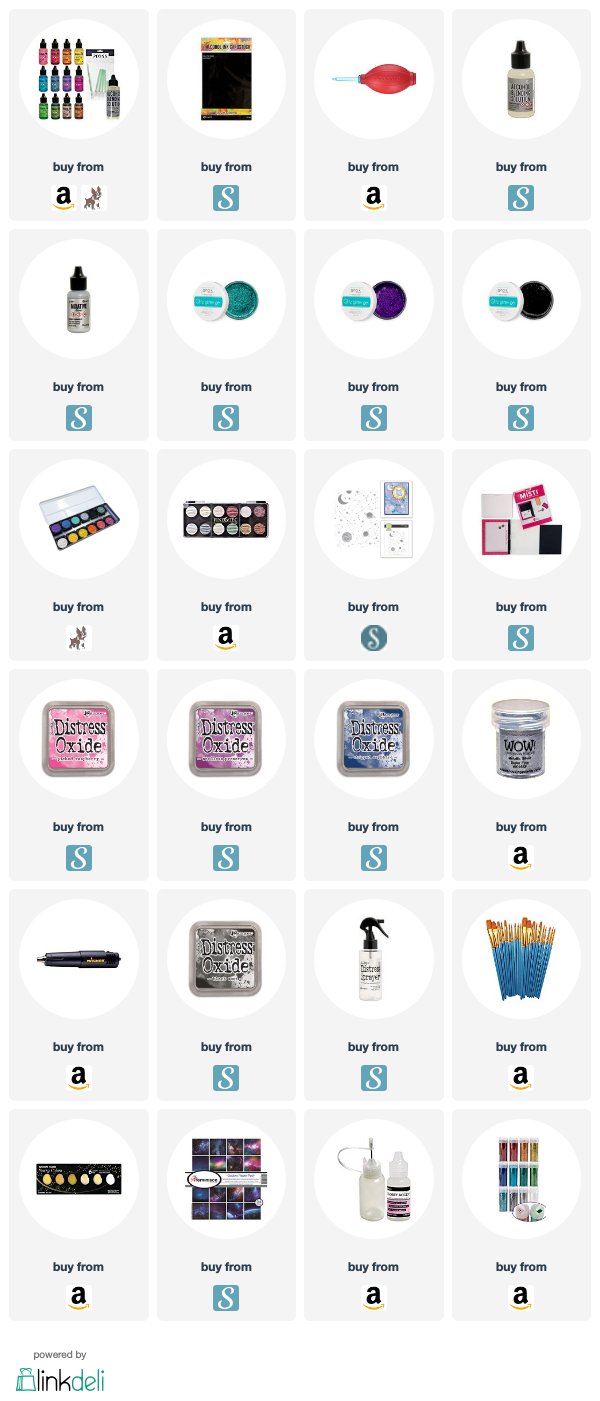 GALAXY TECHNIQUES
1. Alcohol Ink
Using this matte black yupo paper, I dropped Alcohol Ink pearls onto my surface. Then I used an air puffer and a straw as well as this blending solution to create a very ethereal effect. For some more space elements, I used this silver mixative for some metallic drops.

2. Glitter Gel
I used glitter gel in turquoise and purple for my first layers on heavyweight black cardstock. Once it dried, I came back and pasted black glitter gel to cover some fo the colors.

3. Metallic Watercolor
I used this metallic watercolor set to add shades of pinks, blue and purples onto heavyweight black cardstock, let it dry, then I covered it up with black watercolor paint.

4. Distress Oxide Ink Smooshing
I heat embossed a galaxy stamp onto watercolor paper. Then I smooshed some distress oxide ink onto a non-porous surface. I spritz the oxide ink with water, and I smooshed my project down on it to pick up the color. The heat embossed image resists all of that ink.


5. Glitter and Glossy Accents
I started with a piece of galaxy cardstock but I wanted to step it up a notch. Using glossy accents, I made little squiggles and starts and planets. Then I poured loose glitter over top. The results is a dimensional, sparkly galaxy background.

Galaxy Background Tutorial Video

RELATED: